Launch X-prog 3 is a powerful anti-theft solution and an ideal choice for professional repair shops and vehicle maintenance businesses.It has achieved vehicle key, Engine and gearbox programming, featuring powerful multiple parts reprogramming and wide range of vehicle coverage.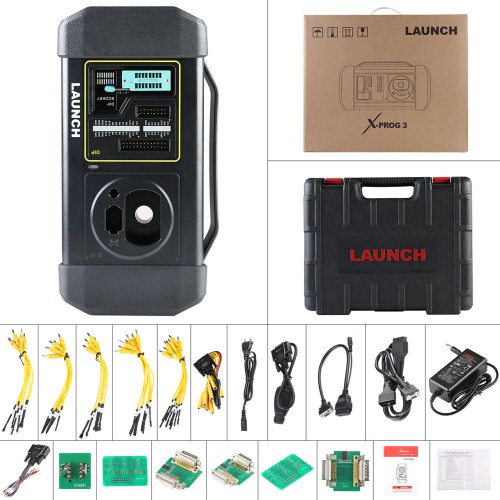 Launch X-PROG 3 diagnostic function supports key programming, engine and gearbox replacement for various of vehicles, you can retrieve ECU information, read,erase, and write in for a range of chips as shown in the product options.Compatible with X-431 series diagnostic scanners, X-PROG 3 enables reading/writing EEPROM, on-board MCU and BMW CAS4+/FEM chips, Mercedes-Benz infrared keys, generating special keys, reading BMW engine INS code.
Main Functions:
1. Integrated the functions of key matching/copy, anti-theft IC reading & writing, and ECU reading & writing, etc.
2. Supports common ECU/MCU/EEPROM major manufacturers, with over 1200 product models, and constantly updating.
3. Supports ECU replacement for all lost without disassembly for VW/AUDI non-35XX instrument (it can be read directly through independent harness without removing the IC).
4. Supports ECU replacement for the fourth-generation of VW/AUDI engine;
5. Supports ECU replacement for the fifth-generation of VW/AUDI Bosch and Siemens engines.
6. Supports the all lost and replacement for the fourth generation of AUDI EZS, comfortable ECU, and KESSY IC.
7. Supports the BMW F and G chassis 8HP gearbox ECU reprogramming to empty.
8. Supports the BMW CAS4/CAS4+ module replacement.
9. Supports the ECU cloning and replacement for BMW Siemens engines.
10. Erase the password for Mercedes-Benz engine and gearbox within 3S.
11. Add the function of calculating the password for the Mercedes-Benz key within 1 minute.
Launch X-PROG 3 Supported systems:
Automatic Transmission, Instrument System, CAS, Body System, Lock System, etc.
Launch X-PROG 3 Supported brands:
VW, AUDI, SKODA, SEAT, BMW, MERCEDES-BENZ, TOYOTA, etc. More models continue to be updated.
Launch X-PROG 3 Compatible with:
X-431 V, X431 V+,X-431 PRO V4.0, X-431 PRO 3 V4.0, X-431 PRO 5, X-431 PAD III V2.0, X-431 PAD V, X-431 Pad VII
Launch X-PROG 3 Part Name Description: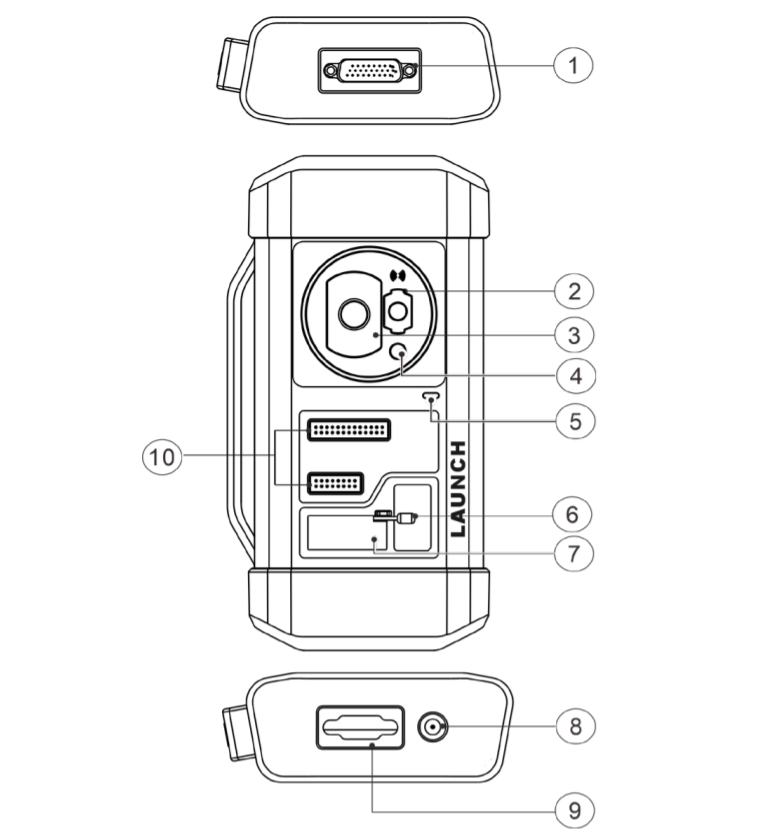 1 DB26 diagnostic connector To connect with all anti-theft cables.
2 Benz key slot To place Benz car key.
3 Key slot To place car key for RF defection.
4 Key chip slot To place key chip.
5 Power indicator
• Red light indicates faults.
• Orange light indicates functions normally.
6 Valve To tighten loose EEPROM board.
7 EEPROM slot To insert EEPROM board
8 Power port For power charging
9 DB15 diagnostic connector To connect with main diagnostic cable.
10 DIY slot To insert vehicle DIY board.
Launch X-Prog 3 Diagnostic Software & APP Update:
1.On the main diagnostic screen, tap Software Update to enter the update center. Check the software you want to upgrade, and then tap Update.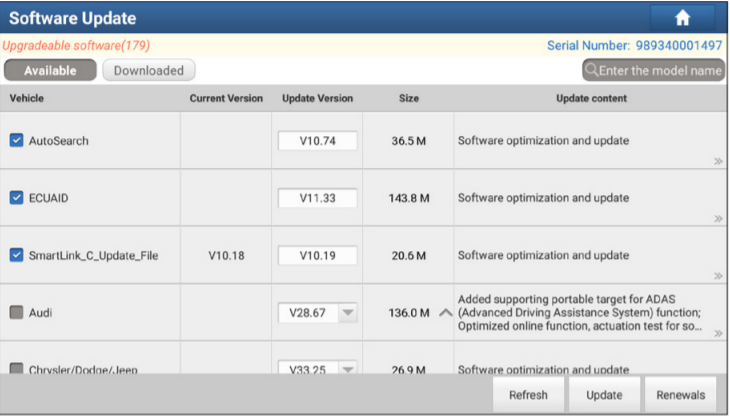 2.Once downloading completes, the software packages will be installed automatically.