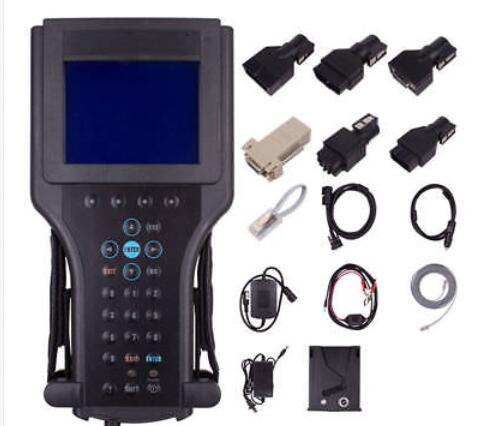 Tech II Diagnostic Scanner (Works with GM/SAAB/OPEL/SUZUKI/ISUZU/Holden) with candi Module interface and 32 MB Card.
Scanner comes with GM English Card as default, Covering GM Cars and Trucks
GM-English 33.004 1991-2013 (Latest software).
DOES NOT come with storage case. Not an authentic tech2. If you're looking for an authentic tech2 expect to pay $1,000+ for a used one and you better know how to tell the difference or you'll pay $350 for a clone unit anyway. This is a clone (Car Diagnostic Tool) but has same capabilities and functionality as the original. Why pay $1,000+ when you can get this cloned model and a fraction of the cost and does all the same functions. Perfect for DIY'ers. We are OBD Manufacturer with 10+ years experience in This Field . 1 year warranty on the scanner & Candi module.
Ship From and To  Canada ONLY , No Customs issue , TAX Free
Scanner comes with:
one 32 mb card and candi module. Full package like the picture shows.
Capture stored DTCs, Freeze Frame, and Failure Record for later review, view the status of vehicle diagnostic tests as they run and provide full bi-directional control when performing powertrain, chassis, and body diagnostics.
Support for all GM systems from 1991-2009 and some 2010-2013 (not all vehicles, see insert below).
TIS2000 CD (included) will do up to 2007 year for GM vehicle programming. Does NOT include the software key. You'll need to obtain on your own or find a hack to unlock. Best source is acdelco website which costs $55 for 2 day access to the tis2000 SPS reprogramming.
Scanner Specification:
Microprocessor: 32 bit,16 MHz
Memory: 32 MB flash type II PCMCIA. Type III slot available for future expansion.
Communications: Integral RS232 communication port.
Screen: 3.8.8 backlit monochrome with full graphics capability: 320,40 pixels. Displays up to 9 vehicle parameters at once.
Scanner Packaging List:
Tech-2 Flash Tester
32 MB PCMCIA Card for GM OE Applications
CAN diagnostic interface module(CANdi) and instruction sheet download (199.2 kb)
RS232 cable and user manual
RS232-DB9 adapter * DLC Cable, DLC Loopback Adapter
12V Cigarette Lighter Power Cable * SAE 16/19 Adapter
NAO 12/19 Adapter
Battery Power Cable
TIS 2000 CD (up to 2007 programming)
Please note DOES NOT work with the below listed vehicles. They require the GM MDI and Global Diagnostic System 2 (GDS2) software/subscription.
2010-2013 Buick Lacrosse
2010-2013 Cadillac SRX
2010-2013 Chevrolet Camaro
2010-2013 Equinox
2011-2013 Chevrolet Volt
2011-2013 Chevrolet Cruze
2010-2013 GMC Terrain
2011 Buick Regal.
From 1991 to 2013 (with exception to the above vehicles) this OBD II Scanner will get it done.