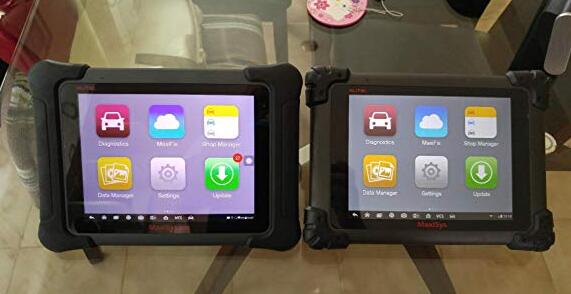 I've used Snap On Verus Pro & Solus and now my OTC Genisys Touch.
I am still very bias to Snap on for MANY things. Just a few is the PID screen, all the PIDS update in the snap on scanners and you never loose the recorded buffer on any of the PIDs if you scroll through. Reducing the amount of PIDs can help some times but often times I need more PIDs then what is visible on the OTC Genisys Touch screen which means….scrolling and loosing all my buffer. Stupid.
Another thing I hate with the Genisys is the 20 seconds it give you to activate a solenoid. Like a EVAP vent solenoid. Only allows it to be activated for 20 seconds when these can be activated for many minutes. They also don't give you valuable parameters to look at during those tests. There are a few other things too.
Snap on has nailed down some features that I really like as a diagnostician and I fight with my Genisys. Though I am sure the Maxisys may have features that snap on tools don't. the Genisys also has some features the snap on tools don't. I wouldn't at all say the snap on verus is a piece of junk though. It is over priced but an extremely effective tool.
Autel Maxisys Elite (Upgraded Version of MS908P Pro) Diagnostic Scanner with J2534 ECU Programming Extensive Vehicle
The Autel Elite, the newest addition to the MaxiSys line of highly advanced smart diagnostic tools, is based on the fast and intuitive Android operating system. Powered by NVIDIA's Tegra? 4, the world's fastest mobile processor, its visually stunning 9.7" Retina display offers ultra-high resolutions up to 2048×1536 and an optimized array of sophisticated and powerful applications.
The MaxiSys Elite rapidly performs every job from comprehensive vehicle diagnostics & analysis to advanced ECU programming. 2x faster than any comparable device, the Autel OBD2 Scanner MaxiSys Elite provides extended battery life and intelligent power saving. The MaxiSys Elite offers a super-sensitive capacitive screen able to respond to gloved, moistened, and even greasy fingers! The ergonomically angled docking station provides optimum visibility and convenient charging that eliminates power concerns.