Launch X431 TSGUN is a portable, affordable and formidable powerful TPMS tools, specially designed to work with X431 V, X431 V+, X431 PAD III, X431 PAD V (PAD5), X431 Pad VII to expand new functions and generate new revenues for X-431 users. It can be used for multi-model tire pressure systems, integrating TPMS sensor activation, reading, diagnosis, learning and programming.
Porsche Cayenne 2010 owner complains the TPMS is something not working. Launch X-431 TSGUN TPMS WAND is a powerful TPMS tool. It can read tire pressure, tire temperature and battery status instantly.
Works with X431 scan tools (X431 V ,X431 V+, X431 PRO3, X431 PAD 5 etc), it can
– read/clear TPMS DTCs, activate and match all  sensors
– activate/Match all known TPMS sensors
– fast reset, relearn and reprogram TPMS sensors
– read, copy and write the sensor ID quickly
We prepare:
Launch X431 TSGUN TPMS Wand
New RF-Sensor by Launch
Launch X431 diagnostic tool i.e X431 V, X431 V+, X431 PAD V
Launch TWC-621 Tire changer (to help replace the tire)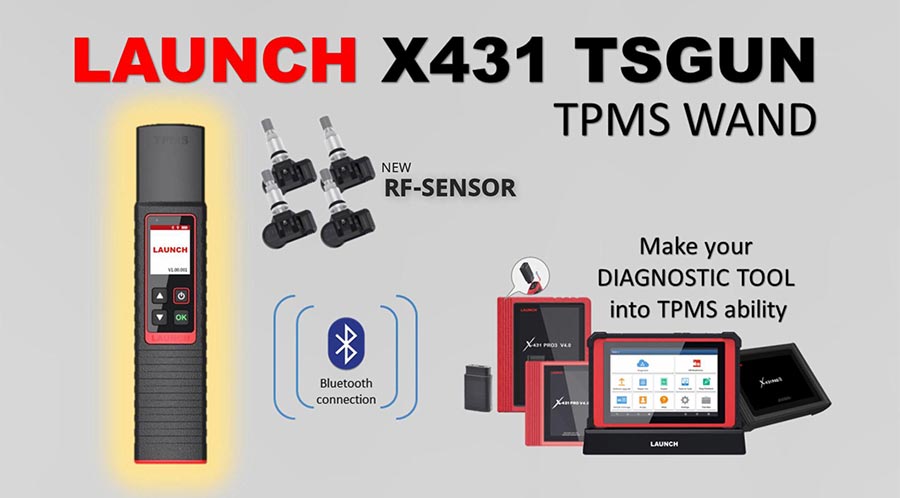 Let's go for the procedure with x431 pro3
Connect X431 TSGUN to x431 pro3 via Bluetooth.
And put TSGUN close to the front left tire, soon the screen will prompt "OEM sensor battery running low".
1.  X431 TSGUN replicate a new sensor.
Programming…
Place the device close to the tire pressure sensor that needs to be activated.
2.  TPMS Sensor replacement
Recommend you use Launch TWC-621 Tire changer to replace the tire.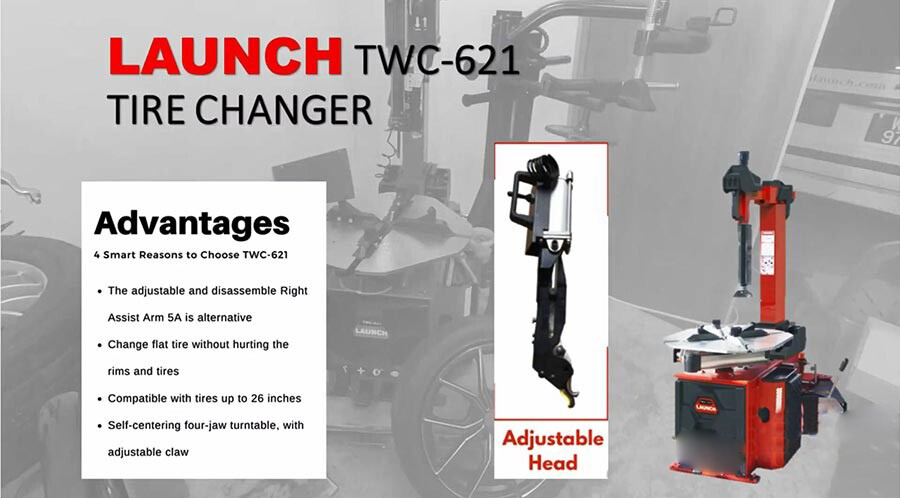 With TWC-621 arm support the sensor replace easy without taking out the tire.
Change the OEM TPMS sensor with Launch RF-sensor.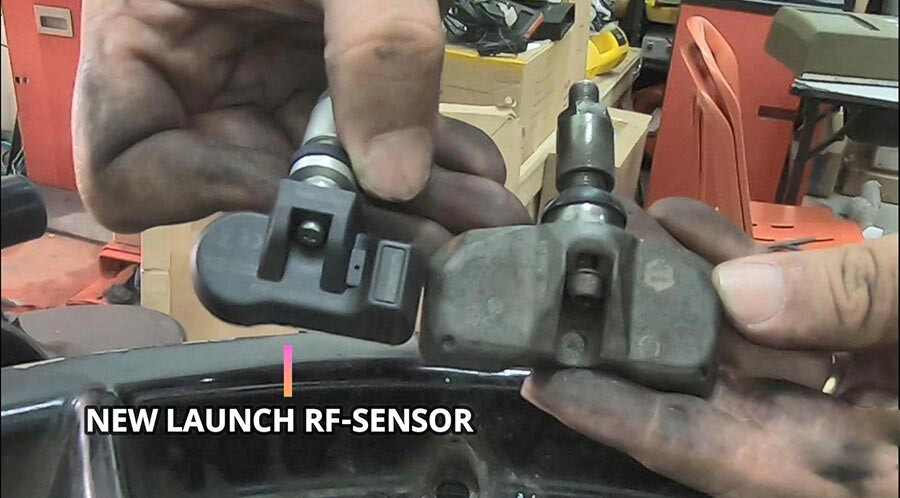 Install back the front left tire.
3.  TPMS sensor active with x431 pro3
Tap "TPMS", the software can diagnose TPMS and activate & program sensor.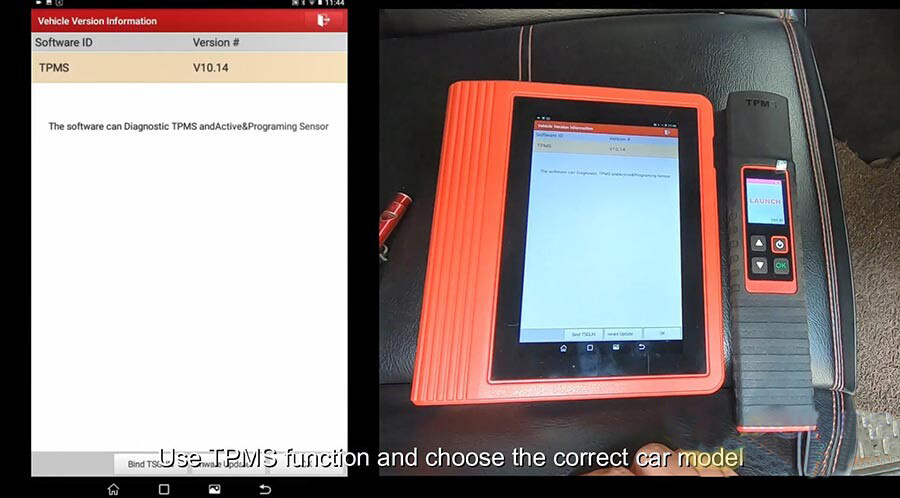 Tap "Europe", then scroll down to choose "Porsche", then "Cayenne SUV 2010"
Next is to use X431 TSGUN to activate all the sensor.
Please press up and down to switch tire position and press OK to activate.
Front left first, then front right, then rear right and last rear left.
okay, all sensors are normal.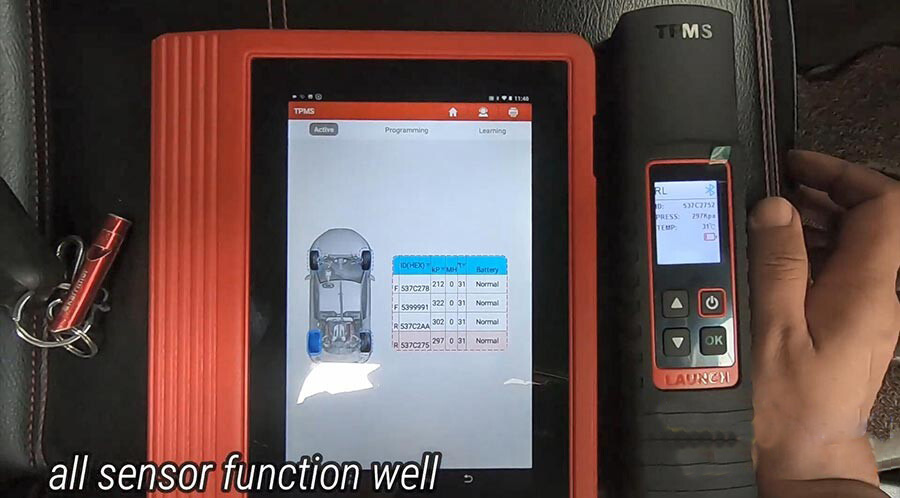 4.  Diagnose TPMS system
Tap "Local Diagnose" -> "European" -> "Porsche" -> Vehicle version information -> OK -> Manual select -> Cayenne -> Cayenne-9PA (Up to 2010) -System selection -> TPMS -> Read Fault code -> No fault code.
You can see ,the Bluetooth adapter is connected to the car OBD2 port.
5.  Test drive about 15 minutes, sensor reading appear on dash.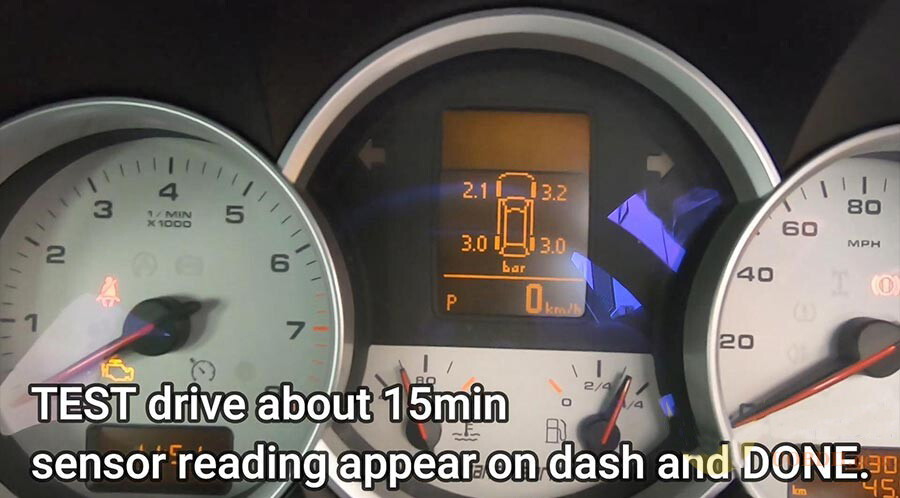 Done!