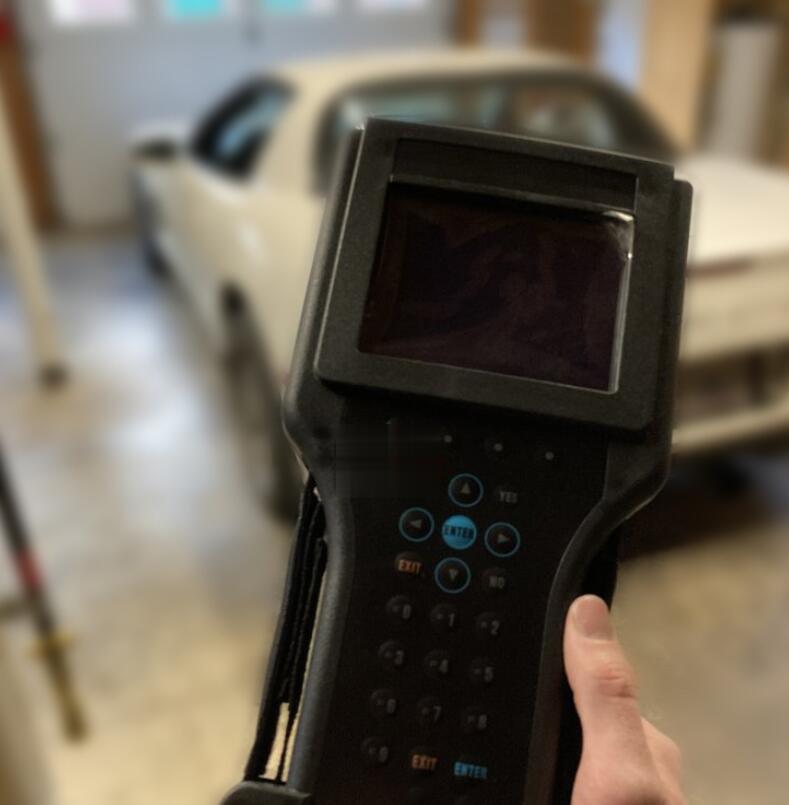 From 1992 to 2009 and certain newer vehicles, GM vehicles use the Tech 2 handheld scan tool. It is the same scan tool as is used also for GM, Saab, Izusu, Suzuki and Saturn including the Saturn Astra (Opel import).
The Tech 2 scan tool simply uses different 32 MB software cards which are removable and switchable. It is a very versatile tool. Extra memory cards cost an average of $449.00, which allows us to expand our diagnostic capabilities really inexpensively. The Tech 2 is menu-driven and user-friendly.
The Tech 2 scan tool is also used for reflashing GM vehicles. It uses a serial adapter with a network cable to connect the tech 2 to your laptop.
NOTE: A serial adapter is used on the laptops 9 pin serial port. Do not try to connect the tech 2 directly to your laptop with just a network cable, because it won't work. GM has certified a specific brand serial to usb adapter for use on all modern laptops without a serial port. We do stock this part, with the cost being $59.95 plus shipping.
In 2004, GM began phasing in to CAN system cars and a CAN adapter was built so the Tech 2 could access them. GM called it a CANDI (Controller Area Network Diagnostic Interface) module.
If you are interested in having full diagnostic capability on GM vehicles 2009 and older, this is it. No compromises, and no expensive required subscription every year just to use it for diagnostics. You can count on the reliability of your diagnostic information 99.9% of the time when using a genuine Tech 2.
BEWARE OF CHINESE COPIES. THEY ARE SOLD EVERYWHERE. EBAY, CRAIGSLIST, EVERYWHERE AVERAGING $400-900.00. They don't work correctly all the time and when they break, you throw them away. Don't get suckered into a fake Tech 2 with a great price. We hear from people all the time that unfortunately got taken.
Chinese-manufactured Tech 2s are almost perfect on the outside. Inside is a whole different story. They can't be repaired with Vetronix/Boschs quality parts. Chinese parts don't qualify for the core charge! If you get one of these and it quits on you, toss it out.
In 2010, GM started phasing out the Tech 2 in favor of a laptop-based system called GDS 2. Six vehicles in 2010 are not Tech 2 capable anymore, with more being added to the list as the years go on.
The six vehicles are:
Chevrolet Camaro
Chevrolet Volt gas/electric hybrid
Buick Lacrosse
Cadillac SRX SUV
GMC Terrain
Chevrolet Equinox
However, as of 2013, there are still GM vehicles that require a Tech 2 scan tool, especially the trucks.