What is JCB ServiceMaster 4?
JCB ServiceMaster 4 is diagnostic software, which contains complete information for diagnostics and calibration of agricultural machinery and engines company JCB.Setting a diagnostic program JCB ServiceMaster 4 on personal computer users have access to view a variety of information, including information that is stored on one DVD.
JCB Service Master 4 Support Language:
English, Italian, German, French
JCB ServiceMaster 4 Functions List:
– Troubleshooting;
– Standard Test service;
– View and edit generated data;
– ECU Flash files with the correct data
JCB ServiceMaster 4 Support Constructions & Agricultural:
Construction:
Backhoe Loaders
Compact Backhoe Loaders
Excavators
Compact Excavators (Mini / Midi)
Telescopic Handlers (2007-, 2007+, Tier4, 525-60 Compacr Loadall)
Skid Steer Loaders (Robot, Skid Steer Loaders and Compacr Track Loaders, Skid Steer Loaders India)
Teletruk (Tier4)
Wheeled Loading Shovels (Compact, Medium, Large, Telemasters)
Articulated Dump Trucks
Vibratory Compactors (Tier3, Interim Tier4, VMT380/430)
Rough Terrain Forklifts (Tier2/3 RTFL, Tier4 RTFL)
Agricultural:
Fastrac Tractors (2000-3000, 3000 Series 2, 3000 Series 3, 3000 Series 4, 4000 Series, 7000 Series, 8250 Series 1, 8250 Series 2, 8000 Series 3)
Telescopic Handlers (2007-, 2007+, Tier4, 525-60 Compacr Loadall)
Wheeled Loading Shovels (Compact, Medium, Large, Telemasters)
Waste:
Telescopic Handlers (Tier3, Tier4)
Wheeled Loading Shovels (427/437/435S T4F, 457 T4F)
Other:
JS Range, JZ70, Backhoe Loader, Loadall 2007-, Loadall 2007+, Loadall Agri Extras, Loadall Construction extras, Robot, Teletruk, Midi Excavator 801-8065, 8080-8085, Dump Truck, Large Wheel Loading Shovels, Compact Wheel Loading Shovels, Fastrac 2000-3000 Series, Fastrac 3000 Series 2, Fastrac 8250 Series 1, Fastrac 8250 Series 2, Fastrac 7000 Series 1, Vibromax, JCB Dieselmax Engine, JCB Engine (IPU OEM), JCB Engine (Base Engine OEM), JCB Generators, LiveLink I, LiveLink II.
JCB ServiceMaser 4 Requirements:
Windows XP 32 bit, Windows 7 32 bit, Wnidows 7 64 bit, Windows 8/8.1 32 bit, Windows 8/8.1 64 bit, Windows 10 32 bit, Windows 10 64 bit
– CPU: Pentium/Athlon 2 GHz or higher
– RAM: 512 MB of system memory
– Hard Drive: 25 GB of available space
– Optical Drive: DVD-ROM
How to Install JCB ServiceMaster 4 on Win7/Win10
Procedures:
After downloading and extracting you will get below JCB ServiceMaster 4 installation files.
Open "JCB_Servicemaster" folder,then right click "FrontEnd.exe" to run it as administrator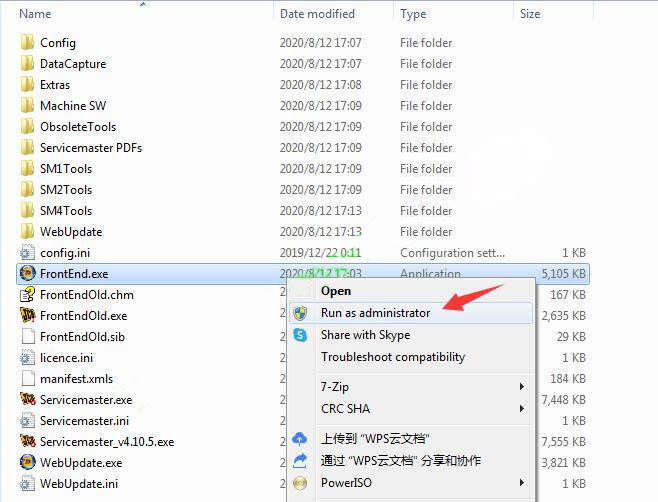 This program will install JCB WebUpdate(V4.00) on your computer,click "Next"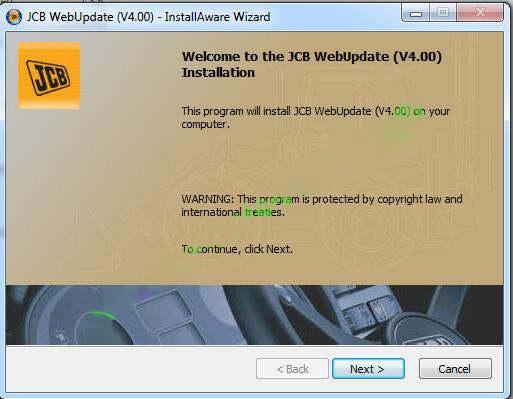 Please wait while WebUpdate (v4.00) is installed.This may take several minutes.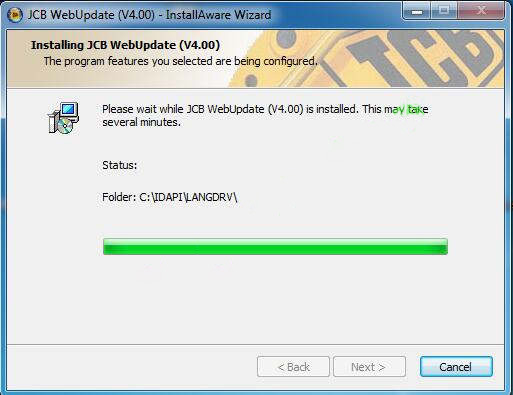 JCB WebUpdate(v4.00) has been successfully installed,click "Finish"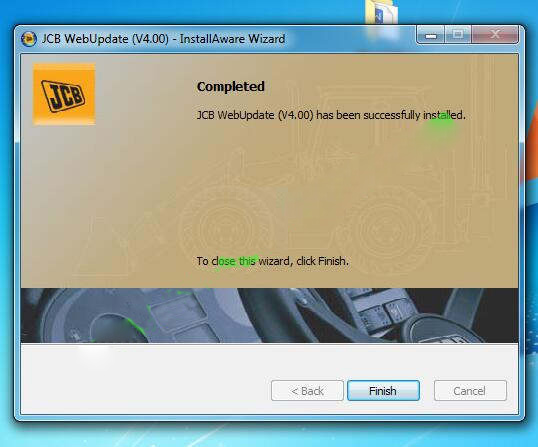 After then it will show you a welcome to JCB message,just click "OK"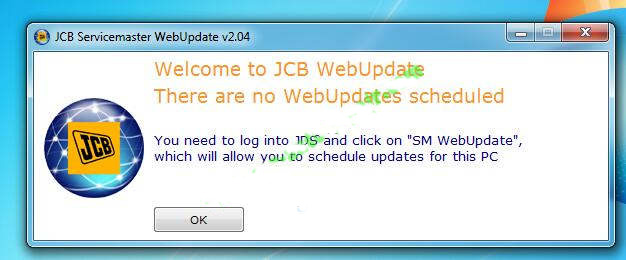 Now back to your desktop,delete the Servicemaster4 shortcut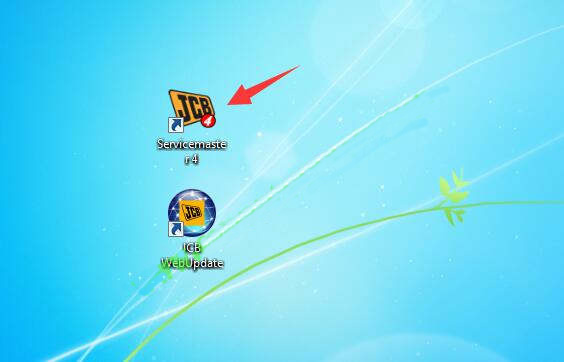 Then back to "JCB_Servicemaster" folder to select "Servicemaster.exe" and sent it to desktop as shortcut.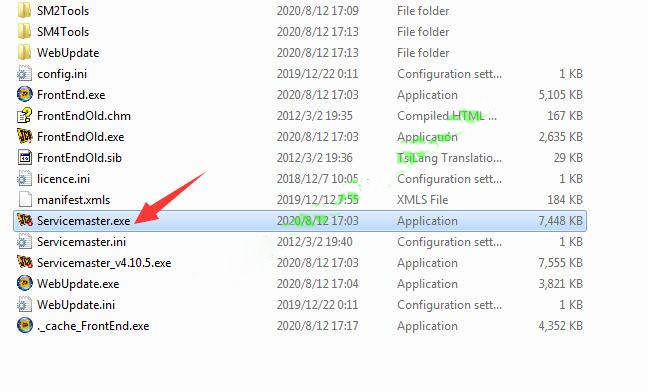 Now run "Servicemaster.exe – Shortcut" on desktop as administrator.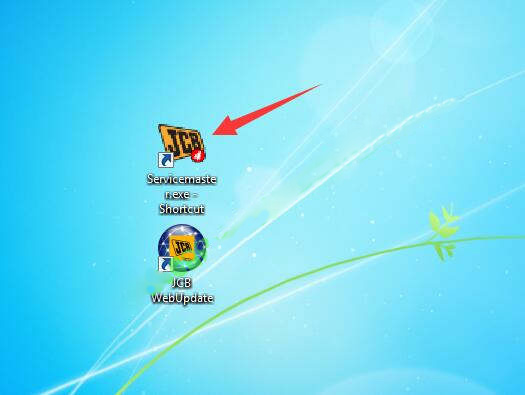 It will ask you to check update,click "Skip"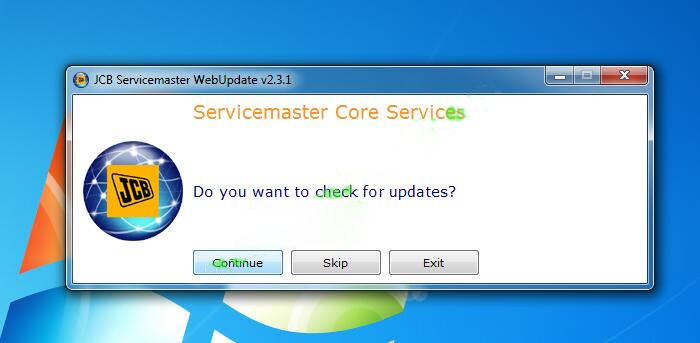 For first time running,it will ask to your update DLA driver
Go "Other"–>"General"–>"DLA"
Please update driver you need
Done!