Cummins INLINE 7 is Cummins  DataLink Adapter with Cummins INSITE 8.3 Software work for Cummins diesel engine diagnostics till 2018.  Cummins INLINE 7 Diagnostic tool replace Cummins Inline 6 with V7.6 INSITE Cummins software work on Win 7/ Win10 system. Obd2tool.com have Cummins Inline 7 with Cummins Insite 8.3 software for Cummins engine diagnostic new released.
Cummins INLINE 7 Data Link Adapter with Cummins Insite 8.3 Software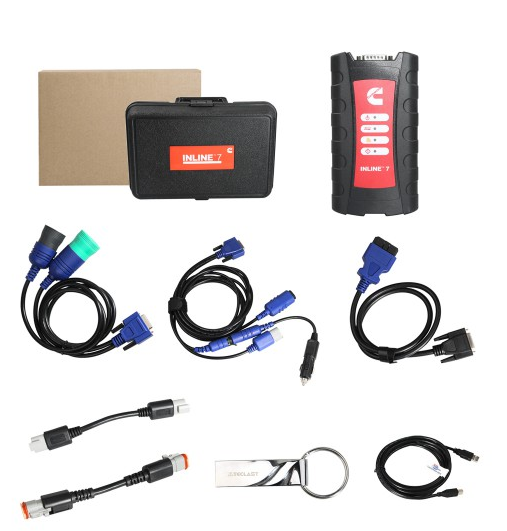 Cummins INLINE 7 with Cummins INSITES 8.3 Software Cummins INLINE DataLink Adapter Cummins INLINE 7 With Cummins Insite 8.3 Software For Cummins Engine Diagnostics
Cummins INLINE 7 DataLink Adapter Overview:
Hardware: Cummins INLINE 7 Data Link Adapter
Software: Cummins Insite 8.3
Update Method: update by CDs
Multi-language: English(united states)/ Chinese(simplified)/ Danish/ Dutch/ Finnish/ French/ German/ Italian/ Japanese/ Korean/ Norwegian/ Portuguese/ Russian/ Spanish/ Swedish/ Turkish
Suggest Operating System: Win7 32 Bit System
Connection Method: WIFI/ Bluetooth/ USB
The Cummins INLINE 7 DataLink Adapter is designed to function with a wide array of Cummins, OEM and third-party service and information tools, including the following:
Cummins INSITE
Cummins PowerSpec
Detroit Diesel Diagnostic Link
CAT Electronic Technician (On-Highway only)
Navistar? -ServiceMaxx Fleet Pro
Volvo PTT
VCAD Elite Mack/Volvo
V-Mac Service Tools
Allison DOC? For PC Service Tool
Allison DOC? for Fleets (1000/2000/3000/4000)
Eaton ServiceRanger
Bendix ACom
WABCO Toolbox
Freightliner ServiceLink
International DLB, Intune, and IPC v2.02
International ServiceMaxx
PF-Diagnosis
and many more!