The Maxisys CV Heavy Duty Scan Tool is built and run on MaxiSYS Android-based platform.
The first thing you will notice is a state-of-the-art Autel 7'' tablet that runs on the Android system. Besides, it is delivered with a sturdy adapter, build-a-cable kit, OBDII to 6-Pin, OBDII to 9-Pin, and OBDII cables.
Equally, it has web browsing capabilities, Adobe reader and TeamViewer installed.
Included also is the latest Autel MaxiFlash Elite that has the capability to perform a comprehensive pass-through programming function.
Additionally, this vehicle programming tool performs complete tool-guided maintenance functions and services as well as diagnose specific manufacturers system.
Some specific system diagnosed by MS908CV include:
*   Eaton
*   Detroit Diesel Engines
*   Wabash ABS trailer brakes
*   Bendix ABS brake system
*   Allison Transmissions.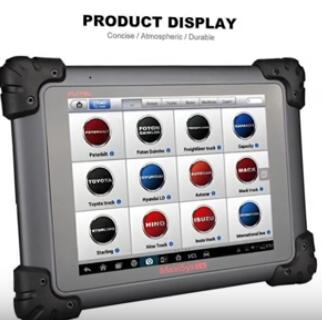 Display
The MaxiSYS CV heavy duty scan tool will treat you to an incredible user experience.
To begin with, it has a 9.7'' backlit glossy Multi Touch high capacitive display equipped with IPS technology.
Whenever you need to record images, its powerful 5-megapixel rear camera equipped with autofocusing capabilities as well as flashlight will help you get crystal clear shots.
Even better, you will access live data in form of text, digital and analog gauge, and graph for both data analysis as well as review.
The table is also equipped with different configure options, record, and playbacks, and set triggers with one touch. As a result, you will be able to playback the recorded data for enhanced ability to accurately pinpoint the possible troubles in your trucks.
Software
The strength of autel maxisys ms908 cv Heavy Duty Scan Tool lies squarely in its powerful software system.
We all know how Android Operating System has practically ushered us into a new and exciting age of technology.
And Autel Maxisys CV truck Scan Tool has leveraged on the Open source Android Operating System to introduce heavy truck scanning in just one touch.
The scanning device takes truck diagnosing to next level with auto scan and auto VIN based systems.
Moreover, its advanced ECU coding, as well as programming enhanced by MaxiFlash Elite, is capable of performing J2534 pass-thru comprehensive programming.
Subsequently, the availability of a reliable Bluetooth VCI communication between the MaxiSys CV tablet and your truck incredibly enhance user experience.