Use the Launch Icarscan to connect to the car for diagnosis. The final prompt is as follows: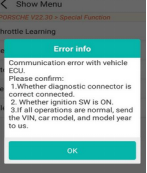 There are 3 possibilities:
1. It is possible that this version of the software will not be able to test your car.
Please provide us with detailed model information. We will develop this model immediately and update it to the next version of the software.
You can just download the new version and test it.
2. If the prompt is found in different cars, the Icarscan hardware may be damaged and the hardware needs to be sent back for repair.
3. there are other possibilities. For example, there is a problem with the car's diagnostic seat, the car's electrical system has been modified, and so on. You can feedback the problem to us in more detail. We can solve it for you faster.
OBD2TOOL All rights reserved this article.