1.Autel Maxisys Pro MS908P Functional Description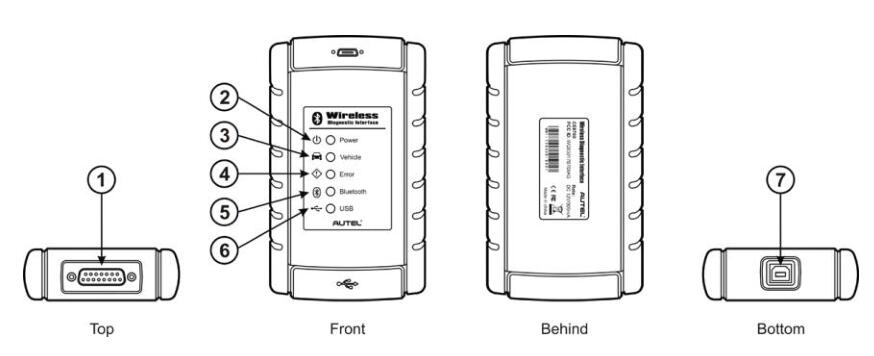 1.  Vehicle Data Connector (DB15-Pin)
2.  Power LED – illuminates solid green when powered on
3.  Vehicle LED – flashes green when communicating with the vehicle's network
4.  Error LED – illuminates solid red when serious hardware failure occurs;also flashes red when performing software/firmware update
5.  Bluetooth LED – illuminates solid green when connected with the MaxiSys display tablet through Bluetooth communication
6.  USB LED – illuminates solid green when the device is properly connected and communicating with the MaxiSys display tablet via the USB cable
7.  USB Port
Communication
The Bluetooth Diagnostic Interface supports both Bluetooth and USB communication. It can transmit vehicle data to the Autel Scanner Display Tablet with or without a physical connection. The working range of the transmitter through Bluetooth communication is about 755 feet (about 230 m). A signal lost due to moving out of range automatically restores itself when the display unit is brought closer to the VCI unit.
2.Technical Specifications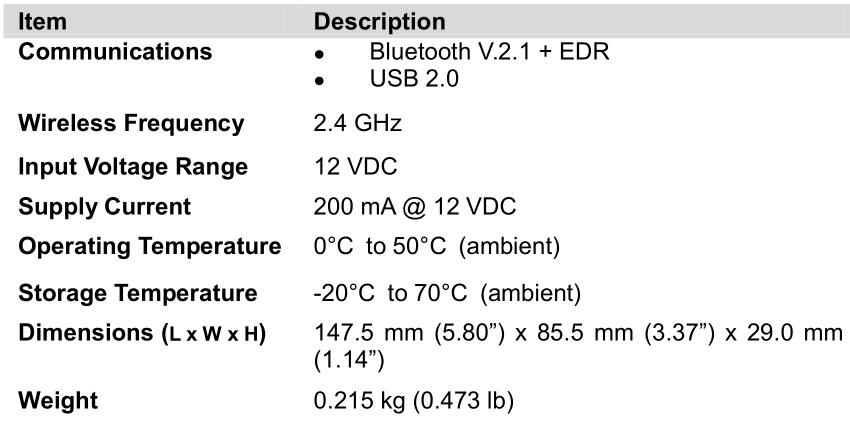 3.Power Sources
The Bluetooth Diagnostic Interface operates on 12-volt vehicle power, which it receives through the vehicle data connection port. The unit powers on whenever it is connected to an OBD II/EOBD compliant data link connector(DLC).