1 Install TF card
1) Take out the TF card from package box.
2) Insert the TF card into the CRP129 Premium (CRP123 Premium) TF card slot perpendicularly. Make sure is fully inserted in the right place with the "micro" label facing upward.
Note: You can hear a clicking sound if you insert the TF card in the right place. Press the card slightly, it will be ejected automatically.
2 Connect CRP12X Premium
1). Turn the ignition off.
2). Locate vehicle's DLC socket: It provides standard 16 pins and is generally located on driver's side, about 12 inches away from the center of dashboard. See Figure 2-2. If DLC is not equipped under dashboard, a label indicating its position will be given. In case no DLC is found, please refer to Automobile Repair Manual.
3). Plug one end of the diagnostic cable into the OBD II 16 pin connector of CRP12X Premium, and connect the other end to the vehicle's DLC.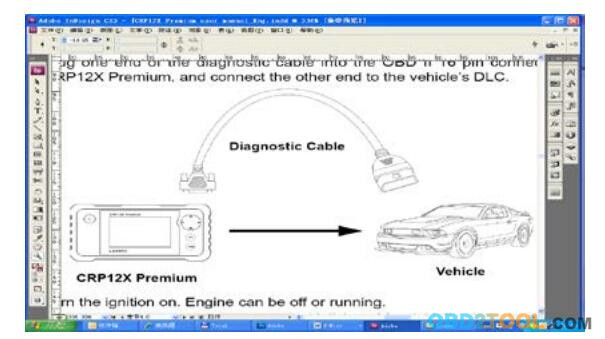 4). Turn the ignition on. Engine can be off or running.
5). After finishing, the system will start initializing. After initialization, the system will enter the main menu interface.
CAUTION: Don't connect or disconnect any test equipment with ignition on or engine running.
3 Settings
Select [Settings] in the main menu and press [OK], the system will enter the following screen: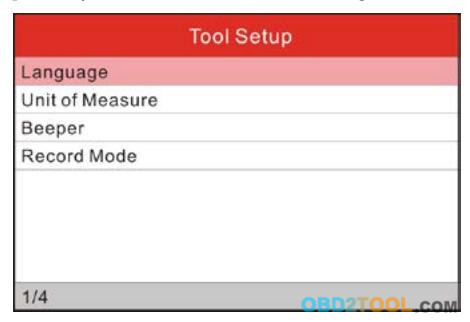 1) Language
This option enables you to set the user interface language.
Note: Due to continuous software upgrade, language interface may differ from different software versions.
2) Unit of Measure
This option allows you to set measurement OBD2 Code Reader Scanner.
3) Beeper
It is used to set On/Off the buzzer.
4) Record Mode
It is used to turn On/Off recording function.