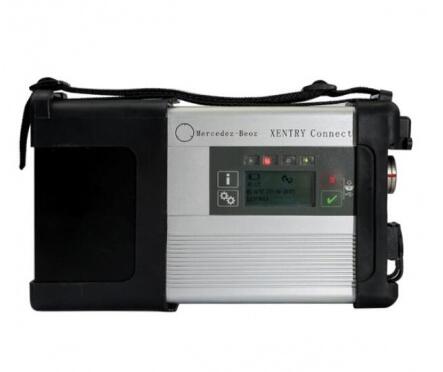 Original Plan 1:1 Copy Mercedes Wifi Xentry Connect C5 multiplexer For Mercedes Car And Trucks.
After 2015, all Star Diagnosis equipment is no longer supported. First of all, this means that there is no update of the diagnostic data for the newest cars and their systems, as well as the lack of the possibility of coding and programming of electronic units due to the backlog of the software data level in the device, from data in the electronic control units of the car.
Already at the end of 2014, at most dealerships, almost all of the previously used Star Diagnosis Compact4 with SDConnect DoIP multiplexers were almost completely removed. Instead, dealers received Xentry Kit kits, which include the latest Xentry Connect multiplexers and Xentry Tab tablets from Panasonic. Tablets are custom-made, although they also have a "civilian" version – the Panasonic Toughbook CF-D1, somewhat inferior in terms of battery life to the original Xentry Tab, but it has a much more powerful configuration.
Honestly, the need to use the Xentry Tab on non-dealer services seems somewhat exaggerated to me. With dealers everything is clear – they were forced to use this equipment.
And what about workshop service? Undoubtedly, the tablet from Panasonic is not very bad … But … Its price is disheartening. The cost of the Japanese tablet is realistic to buy pieces of eight new laptops or tablets from other manufacturers.
So , we suggest you buy Mercedes Benz DoIP Xentry Connect C5 MB Star C5 Plus Panasonic CF52 Laptop from OBD2TOOL , We will install and activate for you ready to use. What's more, this package offer saves you money than buying them alone.
After all, there are many reasons to choose Xentry C5 Connect. The main thing is one: since 2015, the diagnostic multiplexer Xentry Connect C5 becomes the only one used at dealerships.
Thus, by purchasing this equipment, you will not lag behind the progress. Each client of of yours, seeing with his own eyes ,that you are in your work using the same device that he saw at the dealer's service station, will understand that he made the right decision entrusting his car to your specialists
2018.07 Mercedes Benz DoIP Xentry Connect C5 MB Star C5 Plus Panasonic CF52 Laptop With Engineering Software