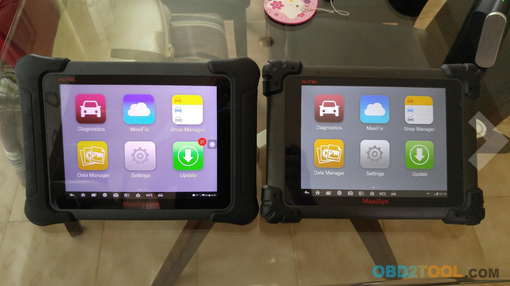 oming from a snap on verus decided to look for a new Autel Scanner that would not break my wallet and decided to take it for a spin. I could do everything the verus can do and more since it comes with the passthrough, performs bi directional tests even turn on the wippers or honk the horn. Every test imaginable can be made with the maxisys pro or elite for 1/3 of the price of a new verus. Only real downside is that you have a troubleshooter in the verus scanner and with the autel you have a forum where you post every problem or doubt and other members of the autel comunity will help and give you solutions to your problems. Not a big problem but easily resolved with mitchell or all data. Ive had a maxisys pro since it can out it has performed flawlessly , perfect. I own a small repair shop ranging from american to import vehicle from gas to diesel (ford powerstroke & dodge cummins) and have never had problems.
When you buy it new you will get 1 year of unlimited updates to new tests or new vehicle info after registering your scan tool on the autel pro page . After that year you will go to the pro autel page and simply pay the fee for another year update. For the pro its 1,299 yearly but its up to you. You dont have to pay it for the scan tool to continue to work. I havent updated mine in almost 2 years and performs neat everyday. Now i have acquired the new elite version of the pro with a new android better camera and with a faster processors. It just works. In all my 12 years as a tech ive used different scan tools and had never seen one as good as the maxisys pro and elite. Now that i have both i will be giving the pro to my employee and the elite for me. Thank Autel for making such great products.
Ps. Customer service is a little hard to get in touch with but very helpful once you get in touch they do everything by phone or remote access
So i received my elite scanner very quickly. Customer services contacted me by email to see if their product had met my expectation. I like the fact that they contacted me and i havent seen that before.
Now continuing on the Autel Maxisys Elite i will be posting photos of the differences between the new Elite and the Pro (wich i use everyday on my shop)
The screen is brighter because is retina display (much like an ipad).
The bootup process is very very faster than the pro. The pro aprox 30 secs of boot up and 5-8 secs on the elite.
It has one more usb that is very usefull for connecting a mouse or a keyboard.
On the outside you will see is much thinner, lighter and rubber protection (feels more like hard plastic but its rubber) on the sides not on the corners like the pro (which are real rubber).
On the top right corner there is a led light that indicates the battery life which is great when you have the screen off. On the pro you have to turn the screen on to see batery life.
The elite come with a docking station where you can charge it of leave it out of harms way.
The scanner from www.obd2tool.com met my needs and was able to communicate with all of the vehicles that I own. I compared it to my Tech 2 Scanner and the same functionality was built within this tool. And the bi-directional controls were the same and worked flawlessly. It's a very capable tool with lots of features such as reprogramming keys, fobs, modules and being able to communicate wirelessly with the vehicle.
Im very impressed with my purchace. I hope this helps because when i purchased my pro the lack of information made me hold of a little bit but tool a leap of faith